Deshaun Watson, the new quarterback for the Cleveland Browns will have a disciplinary hearing with the NFL and could be punished for a few months.
The NFL announced on Saturday, June 25, that Deshaun Watson must attend a hearing on July 22 because the player apparently violated the league's conduct policies.
According to ESPN's Adam Schefter, the hearing for Browns quarterback, and disciplinary officer, Sue L. Robinson, who was jointly appointed by the players' association is scheduled to begin this Tuesday.
The hearing between Watson and Robinson will occur to determine whether the player violated the NFL's conduct policy and, if so, to choose the exemplary punishment.
The NFL is pushing for an indefinite suspension that would last no less than a year, The Wall Street Journal's Andrew Beaton said.
Should that be confirmed, Deshaun Watson would have to apply for reinstatement after the 2022 season.
What about Deshaun Watson?
The quarterback was accused by 24 women of sexual assault during massage sessions during his time with the Houston Texans from 2017-2020. And according to reports, last Tuesday he reached an agreement with 20 of those women, although it is unknown at this time what was agreed with the attorney, Tony Buzbee, who represents the women.
Schefter said a source told him that for now the NFL has not been able to gather testimony from the girls who reported the 26-year-old player.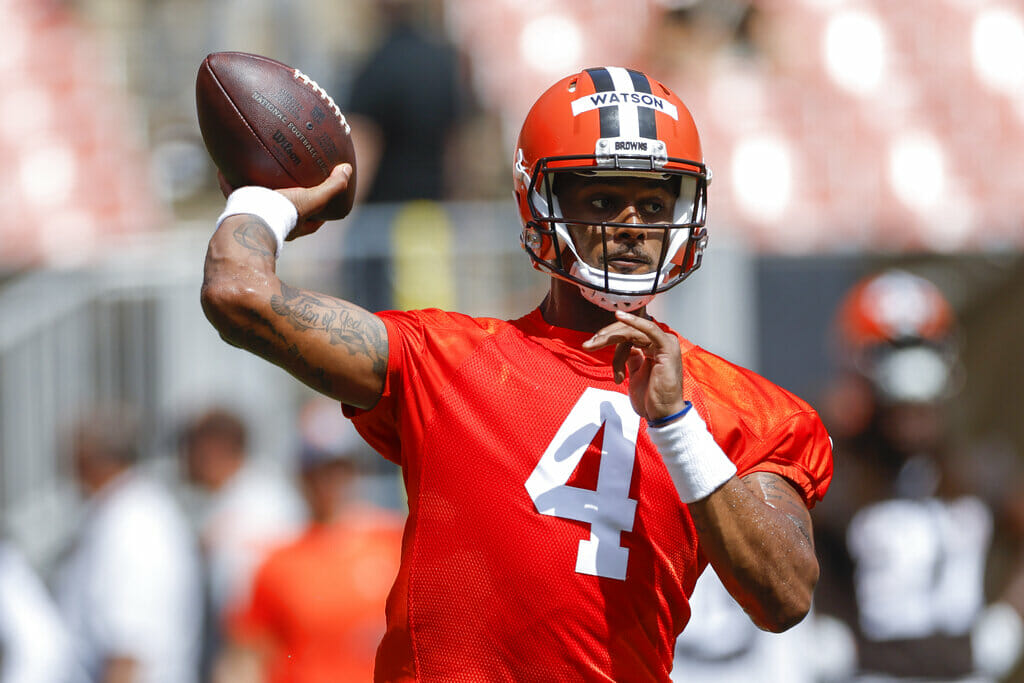 On June 14, Watson spoke about his conversations he had with league investigators and said he has been cooperating with what has been requested of him:
I met with the NFL a couple of weeks ago and I did everything they asked me to do. I answered every question truthfully that the NFL asked me. That's all I can do is be honest and tell them exactly what happened. And they have to make a decision best for the league.
The quarterback was inactive for the 2021 NFL season and asked the Texans to leave the team. In March 2021 the first lawsuit against him arrived and from the beginning he has stated that his behavior was not bad and that everything was by mutual agreement.
This year, Deshaun Watson signed with the Cleveland Browns for five seasons for $230 million, but we still don't know if he will see action or not.
---
Do you like our content? Don't forget to follow us on our Facebook to keep up to date with all the sports information, only here at JefeBet.
---